LONG AGO, when Mr. Bob and I used to go to our within-walking-distance Chinese restaurant, the lone waiter, once he knew we were business owners, used to greet us with
"Once upon a time.......", followed by "There was a Queen", then
"and a King". It was such a ritual that I used to add "and an Emporer", just so Patrick wouldn't feel left out. And so it went, visit after visit, our knowing exactly how the words would unfold, wishing we could somehow break the mold.
Fast forward a few years to when the neighbors we'd lived side by side with for 45 years all decided to go to dinner together once a month. We'd carpooled and watched over the neighborhood kids all that while without having time to socialize really and retirement was affording us that freedom. We began by going to various restaurants, but nearly all of them refused to give us separate checks at the end of a delightful evening and we found ourselves in the position of doing mathematical story problems in figuring out who owed what.
Patrick to the rescue! At The Magic Wok, he was perfectly willing to separate the cost of the meal and it didn't take us long to decide to return and give that restaurant our business each month.
Gunars, in the Hawaiian shirt, is no longer with us. He was a sheriff's deputy and he left us too soon, but his widow, Susie (in chartreuse) still joins us. She retired last month, the last of us to keep working.
Dave, wearing an island shirt here, was a camp director in the High Sierra. He's the one with the yard full of artfully arranged mining equipment, up on the corner. He pans for gold in his front yard, you may remember. His wife, Shirley designs greeting cards and holds workshops for rubber stamping.
Clockwise, Rita and Bill, Zip (so camera shy in the beginning, refer to the first group picture), his wife must have been absent that evening, Susie, Dave, the miner, us and Shirley, Dave's wife. All have interesting stories to tell and the laughter is long and loud on the evenings we meet. Patrick assures us that it's permissible to be boisterous.
His conversational skills have broadened way beyond "Once upon a time........." and he comes to our table and joins our chatter, bringing in the subjects of the stock market and whatever else is on his mind.
Tonight's the night we get together (the third Thursday of each month) and anticipation runs high........eating Chinese food with 9 or 10 dishes to share is a treat, providing much variety. Dave, the miner, is the only one who brings his own chopsticks and handles them comfortably, so we let him take home most of the leftovers.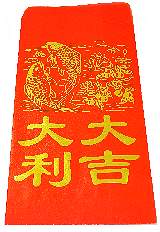 I just sent Owen a red money envelope this morning for Chinese New Year
Meanwhile,
Happy Chinese New Year
.
Would that you could join us tonight. What dish would you order?